Is PM Shehbaz following in Imran's footsteps?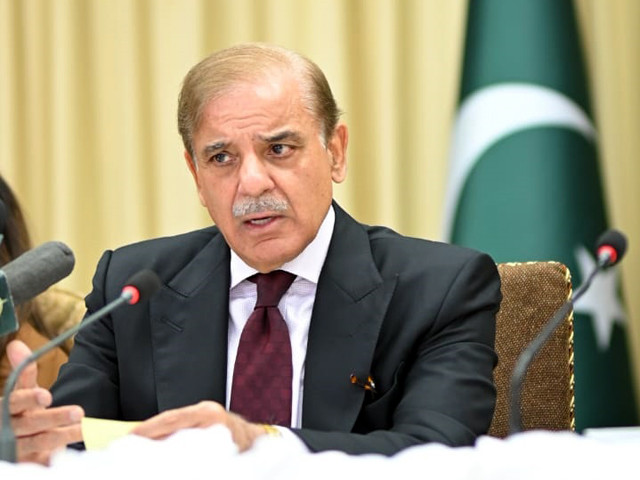 ISLAMABAD:

Prime Minister Shehbaz Sharif on Saturday declared that former premier Imran Khan was once a "coward" and "criminal" whilst grudgingly venting that the PTI chairman was once working clear of courts as an alternative of going through them just like the Sharif circle of relatives in addition to different PML-N leaders didn't see you later in the past.
In a remark, the high minister accused the deposed premier of making an attempt to impede the revival of the International Monetary Fund (IMF) programme, which was once initiated right through Imran's personal tenure in energy.
PM Shehbaz additionally alleged that spreading chaos and mischief at the streets had been a part of Imran's schedule to derail the IMF programme.
In addition, the premier claimed that Imran was once no longer in the welfare of the deficient folks and unwilling to deal with the problem of the emerging inflation in addition to financial pressures, pronouncing evading courts was once the peak of the PTI chairman's cowardice.
"This timid person [Imran] did not allow the courts to search him as he is guilty," he declared with out the PTI leader's conviction.
Surprising as it'll appear, the premier's remark wearing a number of different name callings and allegations had been very similar to what Imran would regularly lodge to when he dominated the rustic.
When Imran was once the high minister, he used to lash out on the Sharif circle of relatives, particularly Shehbaz, and claim them thieves, corrupt and robbers.
Often, the PTI chairman referred to as Shehbaz a "criminal" and "the offender of the country.
Imran stubbornly maintained that he didn't believe Shehbaz because the opposition chief and he would no longer even shake arms with him.
He nonetheless labels Shehbaz and others as thieves, corrupt and robbers, and so forth.
Calling every different shameless, duffer and awarding different such derogatory titles to combatants has turn out to be an integral a part of verbal spats in the rustic's political panorama.
At a time when the rustic wishes solidarity amid a number of political and financial demanding situations, professionals really feel that politicians, together with the incumbent and ex-premiers, don't hesitate from calling names and adopting an competitive behaviour.
"I think Shehbaz Sharif has started following in the footsteps of Imran Khan when it comes to calling names," Pakistan Institute of Legislative Development and Transparency (Pildat) President Ahmed Bilal Mehboob advised The Express Tribune.
He added that Imran had set the fashion and now Shehbaz, his niece Maryam Nawaz and different PML-N leaders had been responding in the similar tone.
"Politicians' first instinct is to become popular," the Pildat leader stated, staring at that once one birthday party or chief noticed that foul language was once paying dividends to different politicians, they resorted to the similar stage as smartly.
Terming it a well-liked however a deadly development, Mehboob famous that it had turn out to be commonplace to abuse others for the sake of political beneficial properties, with out realising it was once spreading hatred amongst kids and others.
Mehboob stated the competitive behaviour of 1 birthday party pressured others to observe in its footsteps.
Otherwise, he added that their supporters would consider that their chief was once a coward and may just no longer reply in the similar tone.
He equated the fashion with filmmakers' tendency to provide a "Wehshi Gujjar" form of movie after witnessing the good fortune of 1 such movie.
Regretting that the core problems with Pakistan had been being ignored, Mehboob stated the point of interest of political leaders was once to turn out to be widespread someway and that was once no longer a excellent signal for the rustic.
As this tale was once being written, PM Shehbaz referred to as Imran "an egoistic person", who was once busy spreading the tradition of intolerance in the country whilst condemning an assault on a media crew allegedly through PTI staff in Lahore.
"Imran Niazi filled the youth with the poison of intolerance and anarchy," PM Shehbaz stated in a remark.
Assuring media group of workers that the federal government would take steps to verify their protection, PM Shehbaz stated Imran's rule was once stuffed with tales of oppression towards newshounds, pronouncing somebody who puzzled the PTI leader was once subjected to torture.
Ironically, the security assurance from the premier has come at a time when newshounds had been manhandled through police within the premises of the Islamabad High Court.
To upload insult to damage, no person was once booked at the newshounds' grievance of being manhandled regardless of assurances given through internal and law ministers, Rana Sanaullah and Azam Nazeer Tarar respectively, in addition to PM's particular assistant — Attaullah Tarar — that an FIR of the incident would quickly be registered.