Maryam urges govt to treat PTI as 'terrorist organisation'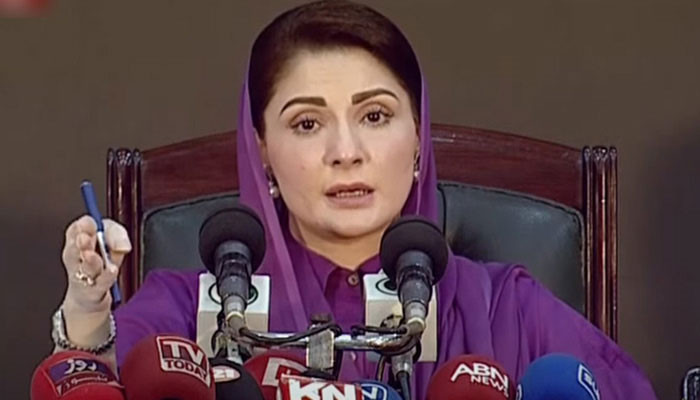 Pakistan Muslim League-Nawaz (PML-N) Senior Vice President Maryam Nawaz mentioned Friday that the federal government must maintain the Imran Khan-led Pakistan Tehreek-e-Insaf (PTI) as a terrorist organisation — and the time had handed to take a seat and negotiate with the deposed high minister.
In a hard-hitting press convention in Lahore, the PML-N chief lashed out on the former premier for making a "scene" at his Zaman Park place of abode, announcing Khan introduced a "revolt against the state institutions".
On Tuesday, PTI employees and police clashed for almost 24 hours as Zaman Park nearly changed into a battleground, with the law enforcers attempting to get via supporters and arrest Khan, who was once voted out as the high minister within the National Assembly remaining April.
Scores of other people — together with police workforce and PTI employees — had been injured within the procedure as the law enforcers fired teargas and birthday celebration supporters resorted to throwing Molotov cocktails.
Referring to the clashes out of doors Khan's place of abode, the PML-N's leader organiser mentioned that scenes at Zaman Park and the Kacha house are identical — the Kacha house is notorious for being a haven for infamous criminals, together with high-profile kidnappers.
Maryam additionally accused Khan of attacking the state in collaboration with the banned organisations. She additional mentioned that he was once "launched" into the federal government on the behest of "external forces".
Turning her weapons against the judiciary and the established order, the scion of the Sharif circle of relatives's political dynasty mentioned that Justice (retd) Asif Saeed Khosa gave shameful titles to PML-N supremo Nawaz Sharif.
Khosa, the previous Chief Justice of Pakistan (CJP), had reportedly used phrases of "Sicilian Mafia" and "The Godfather" whilst listening to the Panama Papers case involving the three-time high minister and others.
---
More to come…